Never enter the playa without a GPS (Global Positioning System)
Frog Farm party again tonight. Tom was driving, he knows the way. No need to bring my GPS, or my flashlight, or my camera — just another night at the Frog Farm (Garret Ranch). It's just straight across the playa from here. No way to get lost— or is there?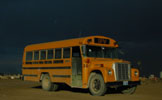 We were about 30 minutes into our 25-minute trip when it became obvious that the dust storm had played a trick on us. Up until that time, Tom was confident we were on the right track.
When we finally stopped, we got out and surveyed the landscape amid the dust. What some were presuming to be the lights of the party were probable the lights of Sulfur Mine. Lurch's compass confirms it; we had been traveling north, not east. We were looking out at the '96 event site, and headed for Black Rock Spring.
Now you can't just correct you heading on the playa and go as the crow flies. No, If you stray from the ruts we call roads, you could easily get stuck in the sand or mud on the shores of the lakebed. The only thing to do was to turn around, go straight back, and start over.
And we weren't alone. Still 2 of the 6 cars that were following us had kept on our trail. Once we turned around, we found yet 3 more cars passing us the other direction, confident they were headed to Frog Farm.
So after a 3 hour tour, the party was still going, the firedancers just starting, and a new pool needed to be dipped in.