01.08.05 Sunday
Late for brunch. When Sunday is a day off, the first meal happens at 10:30, I think. Well, I got there at 11:00 and the only sign that a meal happened was one person eating. All other traces of dirty plates and empty steam tables had been removed. Cold cereal for me!

Rebuilding the stage — A Suicidal Bunnies aftermath.
Back to the ranch house to work on my journal. I spent the whole day there. I missed the dinner siren. When I could no longer squint at the screen, I took my camera back to the Beach Club.
Just outside, Metric was sponsoring a movie night. He set up a TV and some couches outside his trailer to show off his new extension cord.

Watching videos in Metric's front yard.
By 11 pm I was ravenous. Still not accustomed to eating only at group meal times, I climbed into the dark fridge truck and foraged for leftovers. I found some soy milk and boiled eggs. I made my way out to a lighted area and found several other meal orphans — and a kitchen-mommy distributing leftovers. I got in on the dole and received a nice foil-covered turkey burger plate. Vegetarian whatever! Doesn't matter at this hour.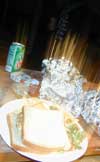 Dinner at last!
Wallpaper of the Day